How to clean Unlacquered Brass Grilles
Tuesday 18 December, 2018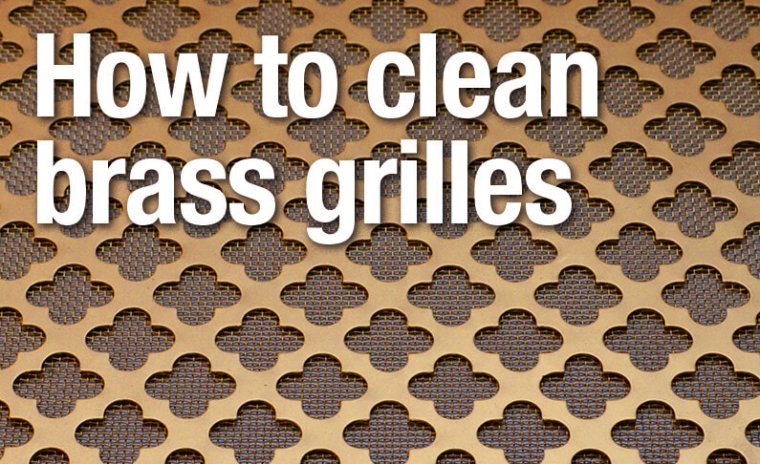 Brass radiator grilles are a fantastic addition to the home, office or public space. However, as with most metals they are prone to oxidation that can make them look tarnished and lose their shine. So what is the best way to clean brass to bring the unlacquered radiator grilles back to life?
Firstly – you'll be pleased to hear that if you buy your Brass Radiator Grilles from Just Grilles, you will find that all our grilles are lacquered and you shouldn't need to use any special cleaning methods other than with a soft cloth or light vacuum.
Over the years, we have heard some rather "off the wall" methods to clean unlacquered brass grilles so we thought we would share some of these methods using some of the household products you're likely to find in your kitchen cupboards.
Remember, these hints and tips on how to clean your radiator grilles or other brass products do not need to be used on our lacquered grilles.
Tip 1 – Lemon Juice to clean unlacquered brass grilles
Wet a cloth with lemon juice, which is naturally slightly acidic, then add salt to the damped cloth, but make sure it has dissolved before applying to the brass. This is to make sure it does not scratch the brass surface. Simply rub the tarnished brass radiator grille with the cloth until the tarnished is removed. Add more lemon juice and salt as you need it. Once you have removed all the tarnish, simply wipe the radiator grille down with a little soap and warm water and the shine will be back.
This is there first method you won't need to use on our lacquered brass grilles!
Tip 2 – Vinegar to clean unlacquered brass grilles
By following the steps in Tip 1 but substituting the lemon juice with vinegar, you can achieve the same results for your brass radiator grille.
It's good to know the brass grilles we provide will not need to smell of vinegar, simply wipe ours with a soft cloth or light vacuum!
Tip 3 – Tomato Sauce to clean unlacquered brass grilles
This may sound like an unusual way to clean tarnished brass, however the acidity of the sauce acts in the same way as the acidity of the lemon juice and the vinegar. You will however, need to make sure you clean the radiator grille well with soap and water after the tarnish has been removed!
However, why no keep your tomato sauce for your chips and use our lacquered grilles instead!
Tip 4 – Do not use a scouring cloth
No matter which cleaning agent you choose to use, it is important that you do not use a scouring cloth or pad to clean your brass radiator grille. By using an abrasive pad you ca scratch and damage the surface of the brass leaving it permanently marked. Always use a soft cloth for wiping down
By using these options to clean the radiator grilles you can ensure you have shining brass grilles, without having to use chemicals, which is much safer for the environment.
Call 01564 778182 or complete the form below to request a quote
We would be delighted to provide a price list or a quote for any of our products.