Using Brass Grilles for your DIY Projects
Monday 24 February, 2020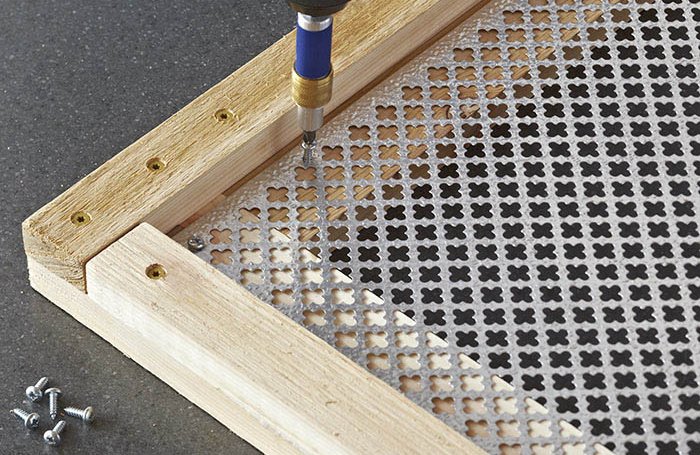 Upcycling, DIY, restorations and refurbishments have become a very popular past time with an eye very much on reducing waste and helping the environment. Metal Grilles can be supplied in a wide range of styles and finishes that can be used in a wide range of projects around the home. Here we have a look at the versatility of metal grilles around the home.
Furniture Grilles in the Bedroom
Turning the master bedroom into a stylish boutique boudoir has long been a popular interior design style. By upcycling old wardrobe doors with a metal grille and using a grille to form a radiator cover, one the wide range of finishes can be used to really tie the design together. The grille designs can be either traditional or contemporary so it can meet any room's theme. This can save money off having new wardrobes to meet the new design theme you are looking for.
Metal Grilles in the Kitchen
They say that the kitchen is the heart of the home, which may explain why so much is spent on new kitchen units that, although may not look how you want them to, they may well be in perfectly good condition. This is where changing the colour scheme and upcycling the door with new perforated metal grilles can really help. This will give you the opportunity to radically change the look and feel of your existing kitchen at a fraction of the cost of a complete replacement.
Brass Grilles for Upcycling Furniture
Following on from the ideas for the bedroom and the kitchen, the DIY enthusiast can turn their attention to an array of other furniture around the house that lends itself to refurbishment or upcycling. For example, some lounge cabinets can look or feel dated and could do with being brought up-to-date.
These are just a few examples of how brass grilles can transform your existing furniture into a stylish modern piece at a fraction of the cost of buying something new. There are so many more pieces around the house that could benefit from a makeover, these could be a bathroom cabinet, a set of screens and of course the radiator covers.
If you are planning on your next DIY upcycling or furniture makeover, please give us a call and we'll be more than happy to help.
Call 01564 778182 or complete the form below to request a quote
We would be delighted to provide a price list or a quote for any of our products.